A Restaurant website only having  PDF menus is a terribly bad idea, and it can hurt the restaurant business.
A clear and accessible menu is an important part of restaurant marketing. When customers look for a new restaurant, one of the most important things website visitors look for is the menu, maybe other than location.
PDF Menu is a Frustrating User Experience
Let's picture this:
Your potential client is browsing the internet to find a nice restaurant for dinner. They find your website and decide to check out the menu, but the menu is a PDF file. They don't know it's a PDF until they click it. The user knows it's going to take longer to download and they weren't expecting that.
Immediate poor experience.
Maybe the PDF version is not optimized for your device (around 83% of the potential customers use smartphones to read menus), the font may look too small and you have to zoom it out in order to read everything and scroll around. The potential customer would probably go to another restaurant with a menu that is easier to read.
PDF Menus are Larger Files
PDF files tend to be larger and takes longer to download. If the visitor is using mobile devices, it usually takes even longer. We have found typically PDFs get a higher rate of back button clicks. So, the visitor may not even see them menu because they just can't be bothered to download the PDF on a mobile device.
You lost them before you had a chance.
Not Easy to Share the Link
It is important that your menu is easy to share, that way your loyal clients can recommend your restaurant to their relatives or friends and they can easily share the link of your restaurant's menu. PDF links are difficult to share and you have to download them.
PDF Menus aren't as SEO Friendly
If you want to enjoy the benefits of SEO, higher search engine rankings and more website traffic, a PDF menu is not the way to go. Tracking mechanisms don't work well with it, meaning that it is going to be harder to predict what experience is the user having with your website.
Since it tends to load slower, competitors with faster loading menus may outrank you on search engines, simply because they are using HTML.
If the PDF is generated from an image, that's even worse. Search engines can't read it at all.  Your website and menu will never be in search engines for the most important part of your restaurant; the menu items.
The Solution: Responsive HTML Menus
Although PDF menus may have their place, they print easy and can be designed and formatted, the benefits of a responsive HTML menu outweigh the convenience of just pointing to a PDF. If your web designer just linked to a PDF menu, call them out.
It's just lazy.
Let's compare a Responsive HTML Menu and a PDF Menu side-by-side.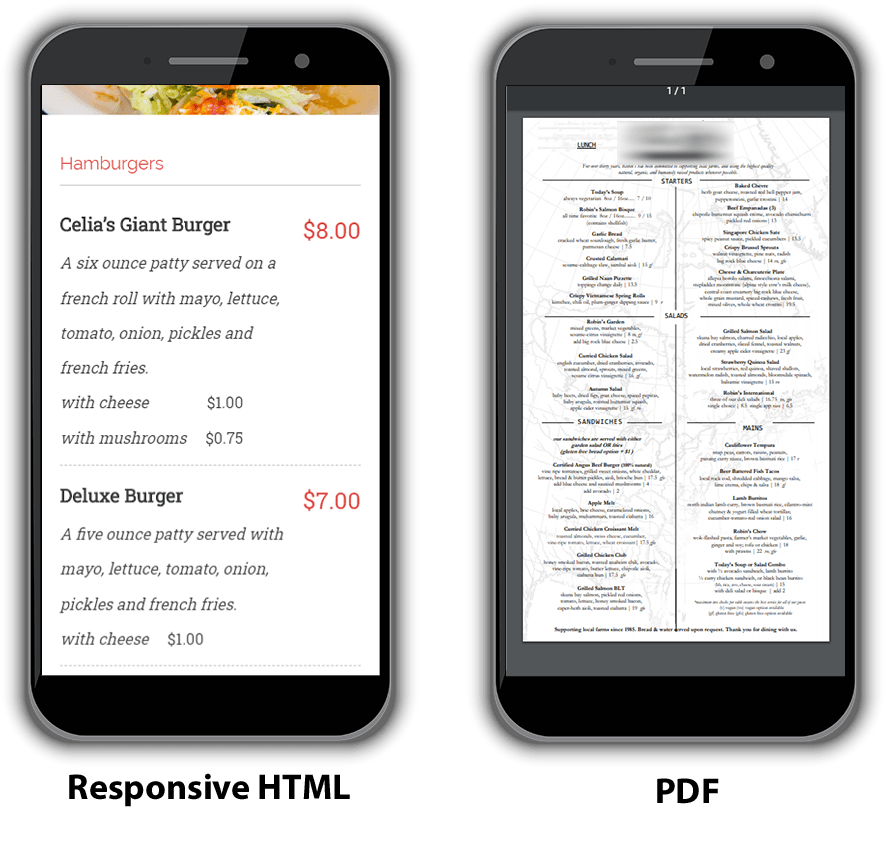 Responsive HTML Menus Work on Mobile Devices
When the menu is on an HTML format it will adapt to the size of any screen, you will be able to read it on any device and it just requires scrolling.
Easy to Share
If your loyal customers want to recommend your menu or share with friends and family or you just simply want to share the link through social media with an HTML it is going to be something easy to do.
Works well with SEO
HTML menus may rank higher on searches, driving more traffic to your website and business, which in turn directly affects revenue.
HTML Menus Provide a Great User Experience
Thanks to all the benefits of responsive HTML menus, potential customers will have a great experience browsing your site and menu. Frustrating website visitors isn't the best way to start an enjoyable experience.
Don't frustrate your customers before they walk in the door.
A restaurant menu should look good and represent the brand. There are ways of doing this Responsive HTML without resorting to PDF Menus. When we look at the disadvantages of PDF menus just from a search engine and SEO perspective: slow loading, lower search engine rankings and difficulty to index this alone will result in less website traffic. Less website traffic results in fewer people finding or knowing about your restaurant. Fewer people online means fewer people in the door. You can see where this is going. Yes, it will affect the bottom line and eventually hurt a restaurant's business.  When you couple this with frustrating user experience when visitors do find the website, it just makes it worse.
A menu is such a fundamentally important aspect of a restaurant's online presence, get it right. Don't be lazy and just upload a PDF file, it's hurting your business.